Description
XLure R.T.U. Multi-Species Beetle Floor Traps combine multiple pheromones in an enticing dark, cozy, dust free environment for maximum attraction of most stored food product beetles, borers and weevils.  Insects enter the trap and fall inside the cartridge.  Once inside, the slick interior trap walls prevent escape.  
Cigarette Beetle
Sawtoothed Grain Beetle
Drug Store Beetle
Merchant Grain Beetle
Red Flour Beetle
Confused Flour Beetle
Khapra Beetle
Warehouse Beetle
Grain/Granary Weevil
Rice Weevil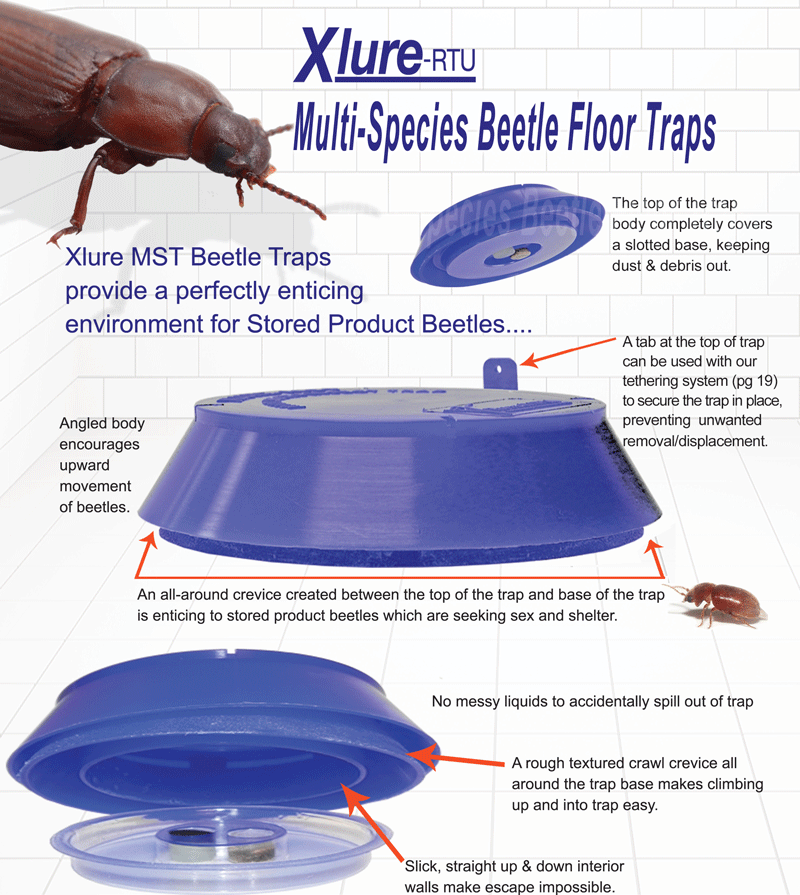 Key Features:
No messy liquid content to spill
Easy to extract captured beetles for inspection/identification
Trap design keeps dust and debris out
Trap body is durable and re-usable "blue"
Cartridges are easy to install, inspect and replace in seconds
A tab at the top of the trap can be used with XLure's Tether System to secure the trap in place, preventing unwanted removal/displacement.
2-1/2″ Beetle/Insect recording labels now packed with each MST Kit to easily uniquely identify traps, date and record insect catch. Also sold separately or downloadable template to print your own labels.
XLure's R.T.U. MST Beetle Floor traps can be use as part of a comprehensive monitoring program in food processing facilities, manufacturing plants, food storage facilities,pet stores, homes, schools, hospitals and nursing homes. Set the traps at a distance of 15′ – 25′ apart initially. Increase and decrease spacing as indicated by regular trap inspections for pinpointing infestation. Replace the cartridges every 6 – 8 weeks or earlier if full.  Replacement Pheromone cartridges are sold in boxes of 10.   Each cartridge is sealed to ensure it reaches you at peak attractiveness.
For use in: Any premises prone to stored product beetle infestations: Food processing plants, manufacturing plants, food storage facilities, pet stores, homes, schools, commercial kitchens, hospitals, nursing homes, etc.