Description
Pro-Pest Safestore Diamond Traps can be used with individually purchased pheromone dispensers for stored product insect & fabric insect monitoring or alone for other flying insects.   Unlike XLure R.T.U. and Pro-Pest R.T.U. traps, these diamond traps are not pre-baited with pheromones, allowing you to build your own monitoring traps.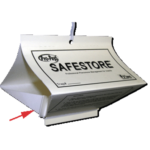 Pro-Pest Safestore Diamond Traps are sold in packages of 10 and 25 count and bulk boxes of 100 count.  These glue traps are used to build many of the Pro-Pest Safestore Kits.
Diamond Trap Instructions: Hold the diamond trap at the top (hole punch is located at the top of the trap) and grab the underside fold and pull down. The diamond trap is now open and ready for placement of a pheromone dispenser if desired.   Fold in the lower corners of the trap and hang.
See Product Information & Brochures to read more.  See Additional Information for Item numbers.